Natural Gas Heating System Solution
Date:2013-12-19 14:30:00
The rapid development of natural gas utilization and construction industry in our country,makes the condition gradually mature to extensive use of natural gas in the city. National energy conservation and emissions reduction and environment protection requirements,also caused the demand of natural gas as a heat source for district heating. Now natural gas is mainly used in district heating users, each stage need commissioner to copy natural gas usage from every household,greatly increased labor costs, and the efficiency is very low. But by using Four-Faith industrial DTU to remote collect natural gas usage, providing effective solution for natural gas heating.
Solution Topology graph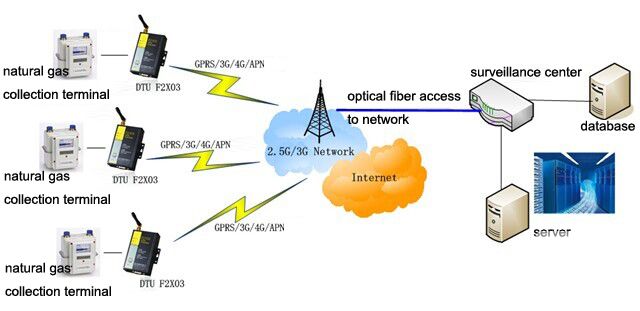 Natural gas collect terminal: each household installs natural gas collect terminal,to collect gas usage, providing parameters for late billing
Four-Faith DTU F2X03 ( GPRS 4G MODEM Gateway Device ) : transfer the collect terminal data upload to the specify background server via GPRS, 3G wireless network, providing wireless transmission channel.
Monitoring center: router provides cable fiber access for the background server center, with fixed or public IP addresses. Server receives the natural gas usage from collect terminal upload, and classifying data, statistics, processing and billing etc.
System Advantage
The whole system based on the mature GPRS or 3G network, transfer the natural gas usage number from heating system collect terminal upload to the server background, and through the background server software to deal with upload terminal data timely, not only improve the work efficiency, reduce operating costs, and guarantee system normal and stable run efficiently.
TAGS: Gas Heating System Solution Gas Heating System application Natural Gas Heating System [Previous Page]
Previous Page:Tuha Oilfield GPRS data collection Applications
next page:Oil field and oil well remote monitoring application