Application in Reactive Compensation
Date:2015-02-17 11:14:00
Controlling terminals of power system are generally installed outdoor, in remote area with no guarding man, and they must be able to work timelessly and stably under special environment. This can be customized according to customers' need. F2103 cellular IP Modem wireless communication module, is the bridge between server and on-site controller. It enables the parameter which gained by controller be transmitted in long distance.
Thus realize customers' need of remote wireless monitoring & maintenance on reactive compensation devices, and eventually cut down cost and improve efficiency. Through Four-Faith F2103 IP 4G Modem, data's long distance transmission is realized, and networking management can be achieved by several distributed site monitoring. F2103 is the bridge for communication between main station and substation.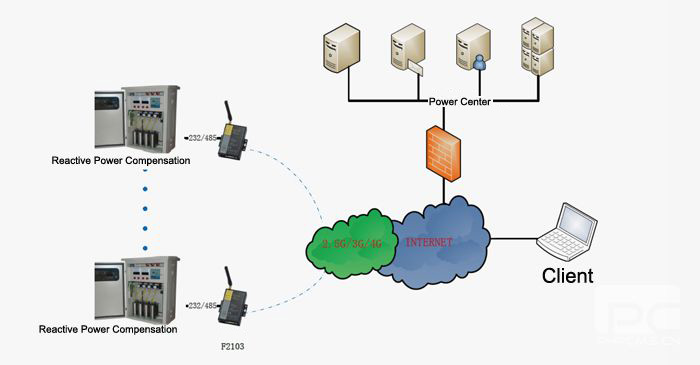 Why Four-Faith?
1, Always online: support for online testing, dropped automatically re-dial, ensure that the device always online, unattended.
2, Support multi-center transmission: support simultaneous transmission of multiple data centers ( five data centers ), to facilitate the management departments at all levels to implement the call data management.
3, Remote control: it can provide remote equipment condition monitoring and system maintenance through a wireless network, greatly reducing maintenance costs.
TAGS: terminals of power system reactive compensation reactive compensation Application [Previous Page]
Previous Page:Feeder remote monitoring application
next page:Wireless Monitoring on Load Breaking Switches of Power Distribution Network