WCDMA Cellular Modbus Modem Applied in Wind Turbines Monitoring System Denmark
Date:2015-03-18 16:38:00
Denmark has always been on the world's top in the global wind energy field. The Danish government gives great support to the wind energy industry, invests 135 million Euros at the research, development and other energy technology every year, and plans to implement the clear energy accounts for 50% of gross generation by 2020, and completely without the use of fossil fuel by 2050. The achievement of this goal, will mean a lot of large-scale wind farm in operation and maintenance by smart real-time monitoring system is imperative.
In the second half of 2014, Denmark customer began to discuss the project with Four-Faith, and put forward the following problems:
1.Unable to patrol maintenance at any time-different from other power generation equipment, wind turbine is hard to arrange maintenance person to check and maintenance at any time.
2. High maintenance cost-by having to go to remote seaside area, and the generator sets are high above the ground in distance, so the maintenance cost is higher too.
3. High fault probability-gear box and related components are designed specifically for weight factors, therefore more easily affected by stress and failure.
Aiming at the problems above, in order to achieve the real time monitoring of wind turbines, Four-Faith proposed a technical scheme for Denmark customer: to build wind turbines real-time monitoring system, including power supply, temperature sensor installed on the blade, and the anemometer installed on the tower, temperature sensor and anemometer both connect with a wireless transceiver module, and the real-time data monitoring analysis center.
After a period of testing and analysis, the Danish customer eventually adopted Four-Faith WCDMA Cellular Modbus 4G Modem F2403 as communication module in the system, the wind turbine connects with F2403 WCDMA Cellular Modbus 4G LTE Modem through RS232 interface, F2403 WCDMA Cellular Modbus Modem connects to the remote monitoring center through WCDMA network. Operating personnel tracks the status of wind turbines, power generation, wind speed, temperature and other data and historical data, average power, the working log from the monitoring center through F2403 WCDMA Cellular Modbus Modem, to realize remote monitoring; can also achieve the maintenance work such as modify parameters of the wind turbine.
Four-Faith F2403 WCDMA Cellular Modbus IP Modem on-site application picture as below: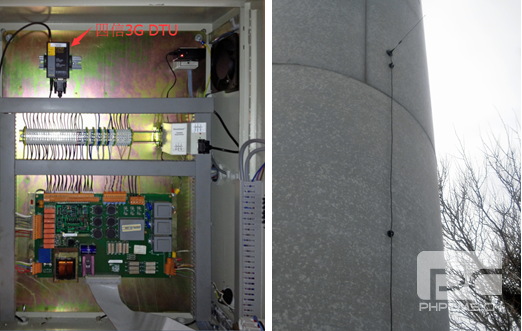 The Denmark customer indicated that due to installation of a real-time monitoring system of wind turbine via wireless network to send the report of equipment status at regular intervals. Which is effectively improved the maintenance period, avoid the sudden stop, and greatly reduce the labour cost.
TAGS: WCDMA Cellular Modbus Modem wind turbines monitoring wind turbines monitoring application [Previous Page]
Previous Page:Data transmission terminal in smart meter reading application in Bulgaria
next page:Remote Data Acquisition of Wind Turbine