Remote Data Acquisition of Wind Turbine
Date:2016-05-23 13:37:06
Location / Country : Ireland
Product Solutions:
F2403 High-powered industrial WCDMA&GPRS cellular 4G Modem terminal device

Project Introduction:

Wind farms springing up across world as wind power has been identified as a key growth component for the country's economy. Comprised of an expansive network of many turbine towers, wind farms are usually located in harsh environments with extreme temperatures. For example, offshore temperatures can even fall below -10°C. Although wires are usually used inside a wind tower to link the turbine at the top to an Ethernet LAN or RS232/485 that connects all the towers on the wind farm to a remote control station, these solutions are not always feasible or cost-effective to deploy, such as on an offshore wind farm. As a result, system integrators have been turning to wireless solutions to keep their wind turbines connected in even the harshest environments.

System Requirements

Wind turbine & wind turbine controller

Server/DSL connection with a public and static IP Address to allow connection from the terminal device
Install TCP2COM- Virtual Com Port on the computer and configure Port Forwarding to the computer.
Install Vestas Remote Panel Software.

Four-Faith Wind turbine Solution

Four-Faith's wireless IP modem F2403 support RS232/485. The wind controller has Optical Interface&Serial Interface. For optical interface, the wind controller is connected to F2403 via "RS232 To Optical Interface". For serial interface, the wind controller is connected to F2403 via serial port directly.

The Four-Faith F2403 is the ideal choice for our customer's operation because this technology could support the GRPS/WCDMA network and auto-reconnect to the server as soon as the network recovers.

Customer is now able to establish the final connection between central control and their remote site with an open, industry-certified, robust networking solution. The Four-Faith F2403 as well as the entire Four-Faith wireless product, proves that remote data acquisition doesn't always require a complex and expensive solution.

Monitoring Center

Using Vestas Remote Panel Software, customer can monitor the status of the wind turbine, such as power generation, operation log, as well as temperature, wind speed. Customer can also modify the parameters in the wind turbine remotely for maintenance.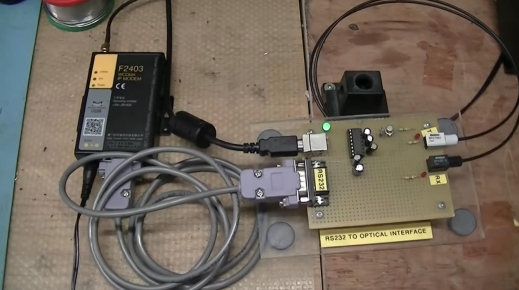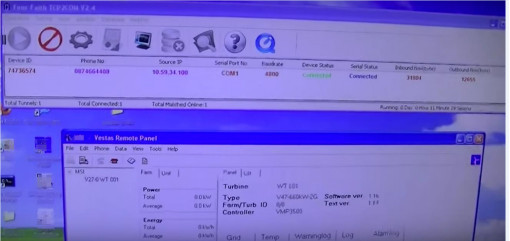 The topology as below :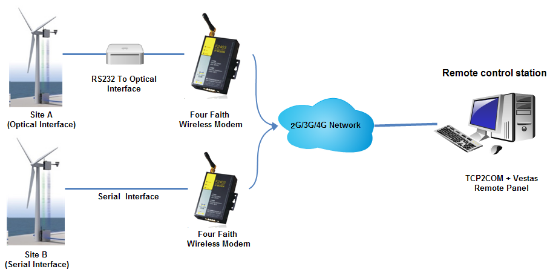 Why Four-Faith

High-Availability Wireless Control

·Provides data transfer function by public cellular network,
·Maximum security transmission in real-time.
·Monitoring and Remote Access.

Four-Faith Cellular 4G LTE modem Benefits

·Wide Operating Temperature: -40~+85ºC (-40~+185℉), applicable to most of harsh environments.
·With small size 91x58.5x22 mm, support embedding.
·Low consumption: <250mA (12V)
·Widely power supply: DC 5~35V

More wireless connections for remote transmission, please visit M2M Solutions
Previous Page:WCDMA Cellular Modbus Modem Applied in Wind Turbines Monitoring System Denmark
next page:New energy under the Internet of Things --- Charging pile integrated management system solutions