Four-Faith Electricity Specialized Module for Column Switch Monitoring System Application
Date:2016-09-26 14:09:30
Four-Faith's electricity client has started their project in Shandong this year. Distribution automation covers main urban area, the planned design target is to realize complete coverage on distribution line, power distribution station in testing place. And make sure 100% coverage on switching station, RMU, switching station telemetry, telecommand and telecontrol. Systematic renovation including RMU's cabinet should follow the requirements of distribution automation to reform, and also transform column switch which has no electrical operation, etc..The whole project use main station, gateway and terminal hierarchy to integrate a electricity automation technology line. And it involves main station system, information exchanging bus and the information integration of enterprise business system, also involves power distribution terminal, the construction of distribution's communication net and other links.

For there is no monitoring equipment on the previous project of power distribution column switch, the status of on and off for column switch can't be monitored. And the whole network system is not flexible enough, also is of high maintenance cost and poor expansibility. Four-Faith has mutual work with client on this column switch system and try to achieve real-time monitoring of the status of on/off for the column switch.Simplified and stable wireless network can fulfill the mutil-data center's communication request..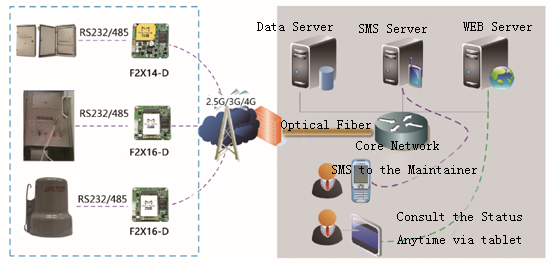 According to client's specific demands, Four-Faith has made a detailed column switch monitoring solution. Through operator's network to realize the monitoring, telemetering, communication, remote adjustment and breakdown monitoring on FTU installation. Using electricity special embedded 4G MODEM F2X14-D, F2X16-D and F2X46-D to connect to power distribution automation main station, providing the running situation of distribution system and supply varied data information for monitoring control needs including the condition of switch, power parameter, phase fault, ground fault and parameters when breakdown. Meanwhile, it will carry out power distribution main station's command adjusts and control the distribution equipment, to realized fault location, and service restoration in time, and realize branches stations remote monitoring and maintenance.

Four-Faith's engineer is debugging on the project site.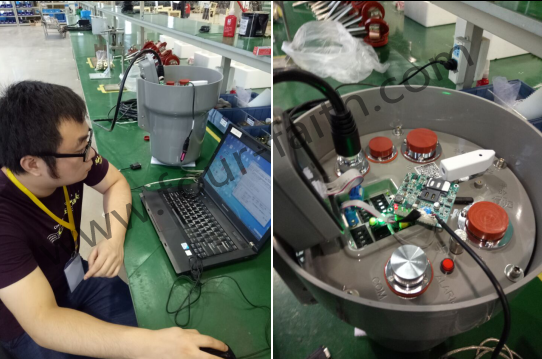 Application Image on Site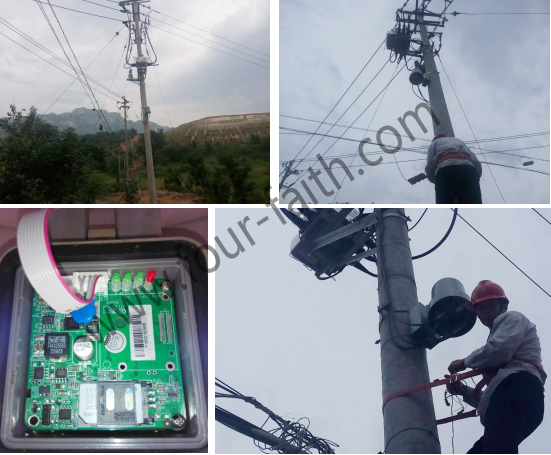 Electricity special embedded 4G LTE Modem product link

1. Small in size, convenient for connect client's devices, strengthen the networking with reliable data transmission
2. Exclusive for power use, support power treaty.
3. Dual cards dual standby, high sensitivity receiving.
4. Mulit-data center synchronous transmission.
5. Device remote configuring and update maintenance.
TAGS: Four-Faith Electricity Specialized Module for Column Switch Monitoring System Application [Previous Page]
Previous Page:Industrial Router for Remote Meter Reading Application in Shanghai
next page:On Analyses the Distribution Automation Integrated Wireless Communication Scheme Design Technique