Public Bike System Wireless Networking Application
Date:2014-04-18 16:52:00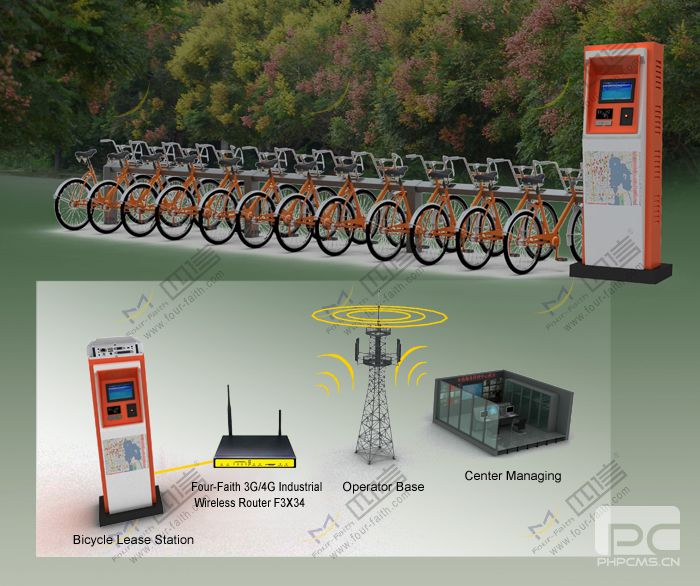 Public bike renting system is composed of management center, service station, renting station. Four-Faith industrial router is used in bike renting station, via the operator network for realizing data exchange between management system and platform, data transmission between smart parking system and clearing system and other data transmission of application system.
Why clients choose Four-Faith?
1.Outdoor environment
industrial grade design, hot and humid and cold resistance, anti-thunder, suitable for harsh environment.
2.Safety data
support L2TP,PPTP,GRE,IPSEC,OPENVPN
3. Always online
support auto recovery mechanism, including online detect, auto dial when offline to make router always online
4. Easy maintenance
support remote maintenance, remote parameter configuration, WiFi.
5. Easy installation
provided the signal of operator, prompt system networking for saving time and improving efficiency.
Successful cases

Beijing Public Bike Project Xiamen Public Bike Project Jiujiang Public Bike Project Baoji Public Bike Project
Customer's feedback
Beijing customer: after more than two months testing, we are very satisfied with Four-Faith because of their standard operation, careful progress, what's more, they supply customized solutions based on our requirements.
Previous Page:Introduction for Four-Faith Electric Cars GPS Monitoring System
next page:Parking Guidance System Wireless Networking Application