Vending Machine Application
Date:2013-12-11 10:35:00
Vending machine
application
is a kind of computer terminal equipment that could be self-service vending and gathering. F3X25 3G/4G router can set up a transparent data channel between vending machine and monitoring center server, and realize vending machine wireless networking. Automatic feedback the status of vending machine and commodity,24 hours networking monitoring, make sure vending machine
application
operating efficiently.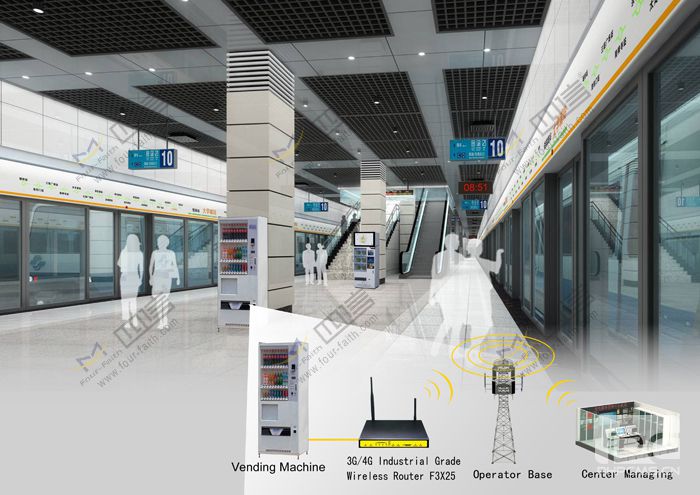 Why clients choose Four-Faith Vending Machine Application?
1. Safety
F3X25 industrial wireless router supports APN/VDPN,IPSEC,PPTP,L2TP,GRE,OPENVPN.Strong VPN efficiently protect financial transaction security.
2. Stability
aiming at instability of wireless network from operators,F3X25 wireless router has the function of network online detection, off line automatic redial and stability of network.
3. Reliability
watchdog and reliability service
4. Remote control
Remote monitoring can be realized by wireless network and reduce the maintenance cost.
5. Easy operation
small size, easy installation
6. Advertisement(optional)
high speed WIFI, support advertisement
Successful Vending Machine Application Cases

Singapore Vending Machine Application Norway Vending Machine Application Guangzhou Vending Machine Application Shanghai Vending Machine Application
Customer's feedback
Norway vending machine application manufacturer: The most important reason why we choose Four-Faith F3X25 series wireless router is the excellent 3G to WIFI function. We can make an excellent marketing information platform by Four-Faith products and push newest products introduction, discount, promotion, hot news to the clients. It could make people like our products more.Vending Machine ATM 4g lte router use in ATM and Finance Application Solutions.
TAGS: Vending Machine Application [Previous Page]
Previous Page:3G/4G Industrial Wireless Router Application in Philippine, Malaysia