Transmission Line Video Surveillance Application
Date:2014-05-08 10:52:00

High-voltage video surveillance management system is to install line state monitoring devices on long-term overloaded transmission lines, difficult patrol areas, difficult repair facilities across, highways and other important cross to ensure safe and reliable transmission line. Four-Faith F3X34 4G/3G Industrial router is connecting to the equipments in this system, with SIM card to provide networking for monitoring terminal and management center. F3X34 use international standard TCP/IP communication protocol for data transparent transfer.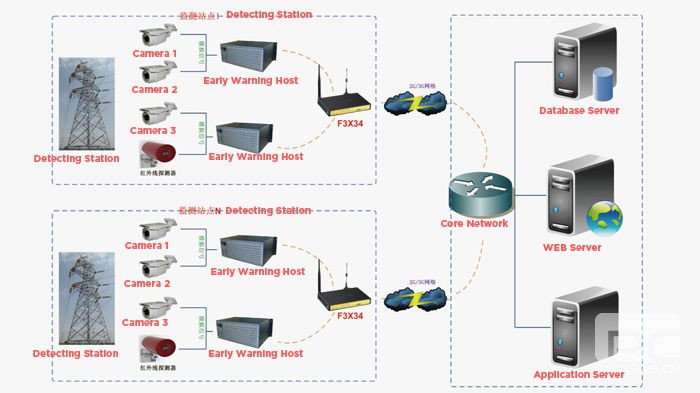 Why Four-Faith ?
1.Special designed for power industry:
Passed the testing of insulation resistance, dielectric strength, surge interference, electrostatic discharge interference, high and low temperature, radio frequency electromagnetic radiation, power frequency magnetic field, are in line with or exceed national standards, 'wisdom and reliable' products are recognized and welcomed.
2. High signal sensitivity:
A stronger signal sensitivity, quick access to the strongest signal even in remote mountainous areas, to ensure stable data transmission.
3. Big data packet loss protection:
Improve processing speed, using high performance industrial grade processor and communication module, effectively prevent the loss of big data packet, especially for video surveillance application.
TAGS: video surveillance management system Transmission line video surveillance video surveillance application [Previous Page]
Previous Page:Transmission Line Fault Wireless Monitoring Application
next page:Substation Wireless Video Surveillance Application