Transmission Line Online Monitoring (Micro-meteorology) Application
Date:2014-03-12 10:44:00

Transmission line monitoring system is to real-time collect ambient temperature, humidity, wide speed, wide direction, and air pressure from the equipments, and transfer the data to data center by using F2414 3G IP modem. The system will issue a pre-alarm message in a variety of ways to inform the staff to respond to the alarm point and take necessary precautions when exceptional situations occur.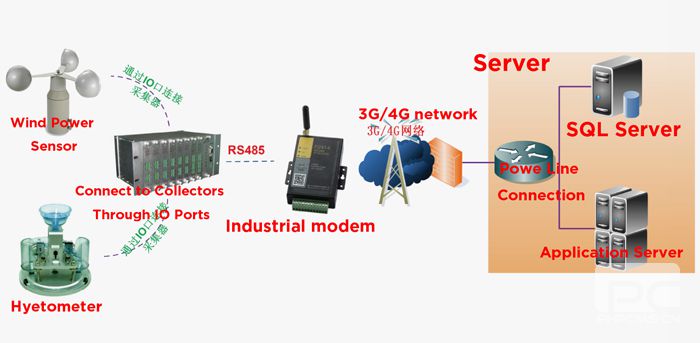 Why Four-Faith?
1. EMC:
Four-Faith F2X14 Industrial IP MODEM adapt high-grade EMC immunity design, can work in strong electromagnetic interference in harsh environment.
2. Lightning protection:
Four-Faith F2X14 GPRS IP MODEM has done a corresponding optimization on lightning protection, to avoid deadly damage to the equipment by lightning storms.
3. Wide temperature design:
High and low temperature, regardless of the outdoor temperature change, to ensure reliable operation.
4. Remote management:
Parameters configuration and remote upgrade IP modem on-site through PC software, greatly enhance the management and maintenance efficiency.
TAGS: Transmission line monitoring system Transmission line monitoring Transmission line application [Previous Page]
Previous Page:PV Inverter Wireless Monitoring Application
next page:Transmission Line Fault Wireless Monitoring Application