Remote Audio/Video Distress Security Applications
Date:2014-06-18 15:07:00
With the development of economy, the number of cars is increasing, the driver is also on the type of diversification is no longer limited to the professional drivers. More and more people travel by car,which makes the accidents increased year by year in road,even though the danger section of conspicuous place have safety signs, warning, but still can not avoid the occurrence of accidents So for the first time of the accident emergency response becomes necessary, through remote video monitoring, remote audio warning, can immediately make relevant personnel to the scene to deal with the accident and rescue the wounded and preventing secondary accidents from happening.
2. System composition
1.1 By the network ip camera, four-faith F3X34 series umts WIFI router, the municipal monitoring center, wireless audio devices, four -faith F2X14 series DTU, response center (119, 120, 110, unified dispatching center, etc ),system graph as below: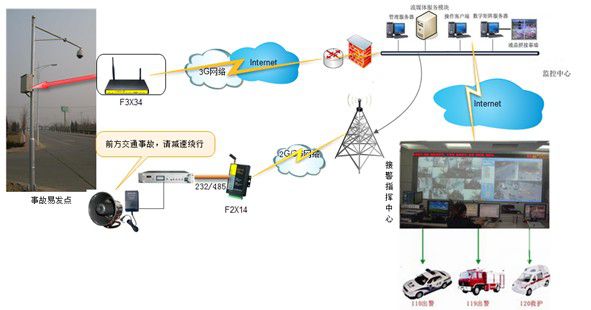 1.2 The system through the traffic accident prone sections of video monitoring, using the four-faith F3X34 devices to upload data to the monitoring center, the monitoring center in the first time to find the accident.Through four-faith F2X14 send control instruction to the controller in the distance, and the controller alarm horn to remind drivers past carefully avoid or detour, etc., at the same time notify the police service center told the information to determine whether the first time send the police and 120 ambulance.
3. In the applications using four-faith F3X34 router devices and Low consumption DTU F2X14 series, belongs to the industrial wireless data transmission terminal, exempt from wiring. At the same time the four-faith industrial grade design, flexible networking, real-time online, the characteristics of strong anti-interference ability is very suitable for using in traffic safety application, etc.
Previous Page:Enjoy High Speed Bandwidth in the Intelligent Bus Via Four-Faith F3X34 Router
next page:Dual SIM Card Router F3B3X for Vehicle Video Camera Surveillance