Enjoy High Speed Bandwidth in the Intelligent Bus Via Four-Faith F3X34 Router
Date:2012-07-20 14:54:00
The car is the 3rd largest consumer on the planet, right behind mankind and fixed housing. And car is a moving object, it is the most suitable one to adapt mobile network technology to realize information service, so there comes "vehicle networking", which means the interactive of car and car, car and road, car and people, car and sensing device, and to build a dynamic mobile communication system of vehicle and public network.
The development of vehicle networking promotes intelligent bus business in recent years. According to statistics, bus is becoming a major travel tool, and wireless internet access is playing an important role in people's daily life, they expect to access the internet, brush blogs, browse webpage, upload video via wireless network.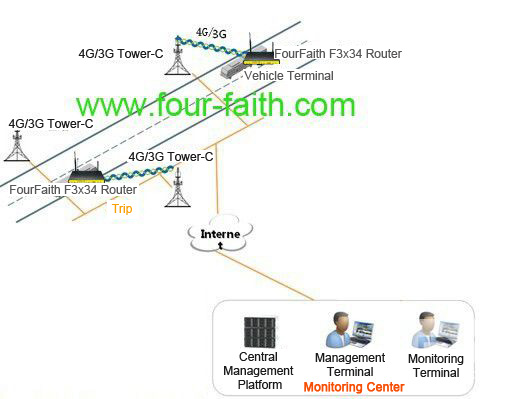 Four-Faith is a key enterprise in the field of wireless communication of Internet of Things. Based on 3G/4G technology, F3X34 high-speed router series use WCDMA / EVDO / of LTE / HSPA + to provide wireless long-distance data transmission. F3X34 equipped in the bus is as a mobile carrier to provide wireless network coverage, and switch mobile signal of 3G base stations along to stable network signal (such as Wi-Fi signal), can easily meet the passengers' requirement to browse the Web, watch video, brush blog, etc.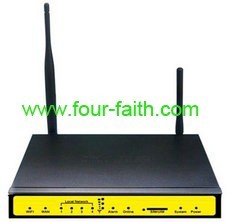 Four-Faith F3X34 high-speed industrial 4G router adapts high-performance industrial-grade 32 bytes communication processor and wireless module, embedded real-time operating system software supported platform, and provides a RS232 (or RS485/RS422), 4 Ethernet LANs, 1 Ethernet WAN, as well as a WIFI interface, which can connect to serial devices, Ethernet devices and WIFI devices to achieve transparent data transmission and routing function. It is widely used in intelligent transportation, smart grid, financial, mobile POS terminal, industrial automation, smart building, fire, public safety, environmental protection, meteorology, agriculture, forestry, water, coal and mine, petrochemicals and other fields.
Previous Page:4G/3G Router for Road Motorized Transport Equipment Networking in Australia