Industrial Router Application for Traffic Guidance Screen Wireless Network
Date:2015-04-15 16:51:00
Traffic jams nearly is the common problem in all big cities, as well as in Australia area. The urban construction, the traffic ahead. How to improve the road environment and efficiency of traffic by technological ways, becomes an urgent problem and needs the local government and management depart to solve.
Make full use of integration and application of a number of new and high technology, such as information technology, data communication transmission technology, electronic sensor technology, satellite navigation and positioning technology, control technology, computer technology and traffic engineering, to make the interaction relationship between people, vehicles, roads in new ways, the way to solve the traffic problem is intelligent transportation system.
Variable information board, real-time parking information screen and variable speed limit signs as an important information carrier of intelligent transportation system, release the road situation to the driver in a timely manner, parking and other kinds of traffic information, and make the traffic laws and regulations, knowledge propaganda, to reduce the road network blocking reproducibility and improve road safety, ease the congestion, and to enhance the efficiency of the travel.
Four-Faith communication is a few of the companies who have the ability to provide complete LED wireless release system software, wireless communication terminal, has accumulated rich in wireless applications field and has good reputation.The smooth cooperation with Australia LED project customers, providing customers with wireless release a full range of products and engineering solutions.
The customer technical guidance and equipment installation and debugging work has been completed at the end of August,2014, the site of the project pictures as below,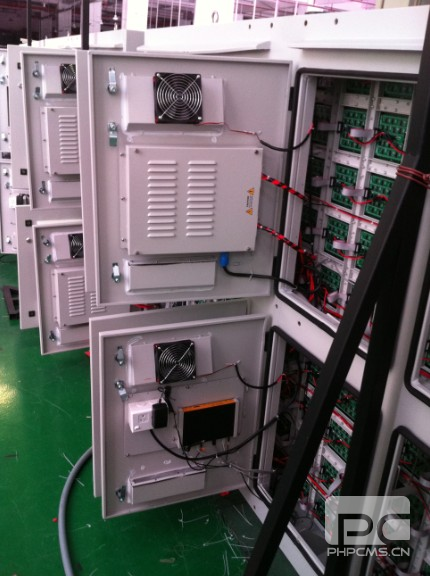 System topology: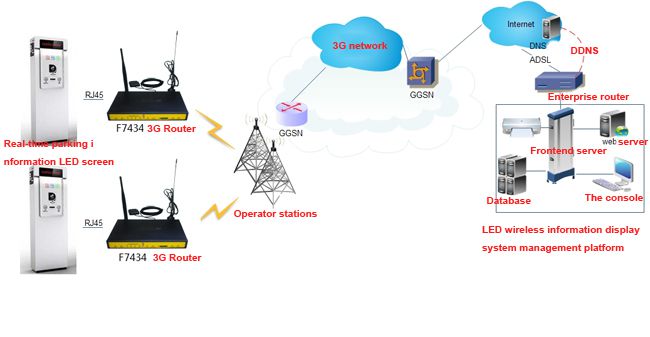 System introduction:
1. LED information display terminal
Including the variable information board, real-time parking information and variable speed limit signs such as single and double color text, graphics screen, guide plate, etc., display size, specification parameters conform to the requirements of the outdoor use of environmental technology.
2. LED Single/double color asynchronous control unit
Responsible for receiving transmitting broadcast content from DTU and control information and transform it into data that end-terminal can perform, realize the screen broadcast, list update state, control instruction execution and returns.
3. The Four-Faith router F7434 GPS Cellular WCDMA WIFI Router Device
Responsible for key data transmission function of the system, real-time connection with platform server to provide network for information terminal automatically download programs, and receiving the control instruction and transmission data to the screen control unit.
4. The system transmission network
System based on mobile communication operators data network transmission, 4 G / 3 G / 2.5 G network can satisfy the system communication applications.
5. LED wireless information system management platform
The core of the whole system, realize the real-time broadcast of all kinds of traffic management information and the function of update the main body, including the system each function module Settings, system terminal configuration and management.
TAGS: Industrial wireless router Industrial wireless router application traffic guidance screen [Previous Page]
Previous Page:Four-Faith Industrial 4G router for Turkey highway video surveillance system
next page:Four-Faith Gprs modem F2103 for LED control application